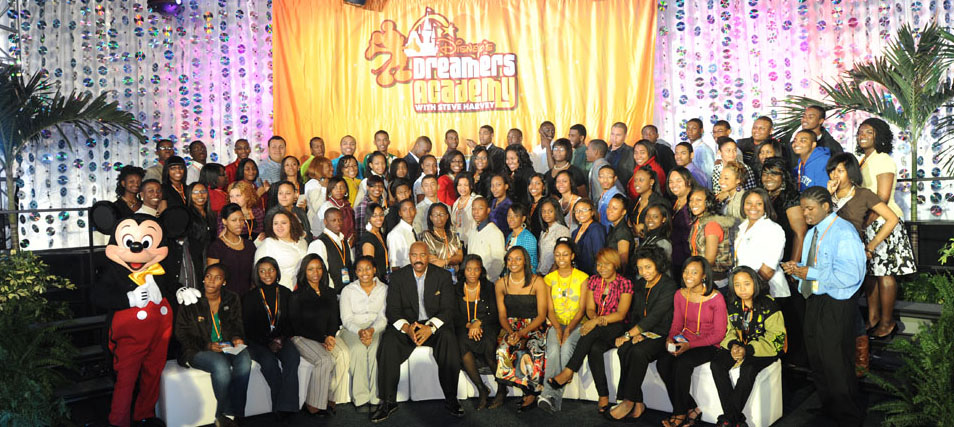 The 2014 Disney Dreamers Academy with Steve Harvey and Essence Magazine. U.S. high school students ages 13-19 can apply to attend this innovative outside-the-classroom educational and mentoring program at Walt Disney World Resort. Applications are now open and must be submitted on www.disneysdreamersacademy.com by October 31, 2013.
In 2008, Walt Disney World created Disney Dreamers Academy in partnership with Steve Harvey and ESSENCE Magazine to encourage Dreamers along their paths to success, to provide them with tools to let their potential shine, and to convey that the power of dreaming is the first step to achieving their goals.
DDA is a 4-day, power-packed event in which 100 select high school students – selected from thousands of applicants, ages 13-19 , are inspired, motivated and prepared to dream big. Disney Dreamers experience:
Inspirational guest speakers with immersive presentations
Career activities ranging from animation, journalism and entrepreneurship, to culinary arts and zoology
Networking and interviewing opportunities
It all takes place in a magical setting: the Walt Disney World Resort theme parks. Both on stage and behind the scenes, the parks become vibrant 'classrooms,' leading to career discoveries, the pursuit of dreams and fun memories to cherish for a lifetime. Dreamers meet Disney cast members, celebrities, industry experts and community leaders showcasing a myriad of career disciplines. Dreamers also have the opportunity to explore the magic behind the scenes and have free time to enjoy Walt Disney World Resort theme parks.
Participants and a parent or guardian will receive an all-expense-paid trip to Walt Disney World Resort in Lake Buena Vista, Fla., where they will engage in life-changing sessions and enjoy Disney's magical theme parks. The 2014 Disney Dreamers Academy will take place March 6 – 9.
Steve Harvey, syndicated radio and television personality, along with Essence Magazine and Walt Disney World Resort will host the selected Dreamers Harvey, speaking on the program, says, "Disney Dreamers Academy gives hope and inspiration and exposes youth to a world of possibilities. We are excited about another opportunity to transform lives and give students an inside look at what their future can hold."
This December, a distinguished panel of leaders from the communications, education and entertainment industries will judge the applications. Winners will be announced in early 2014.
For more information visit www.disneysdreamersacademy.com, www.facebook.com/disneysdreamersacademy or follow DDA on Twitter at www.twitter.com/dreamersacademy.