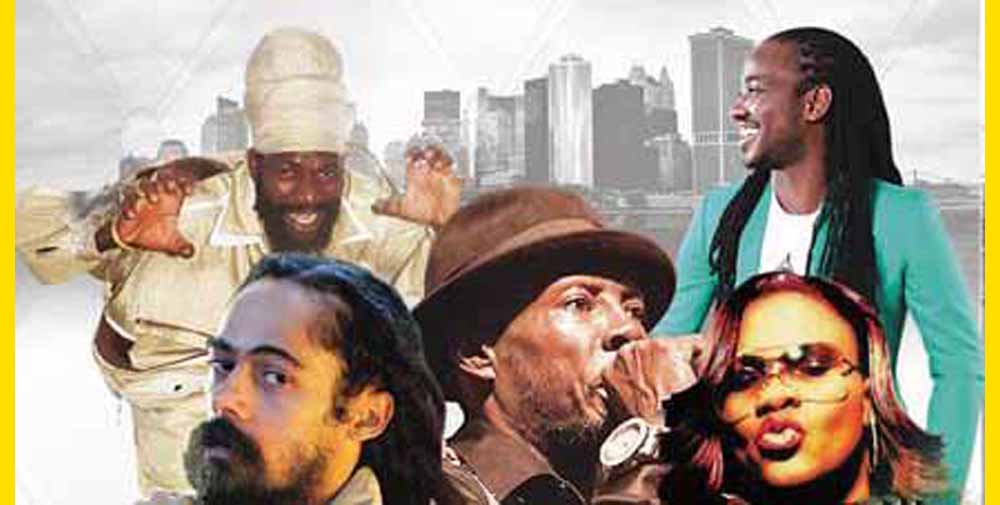 Day 3 of 'Operation Labor Day' featured the Caribbean Fever Music Festival's Irie Jamboree. No hookups this time. Just my homegirl and I chillin' in the nosebleed section of The Barclays Center. The first thing I noticed is that stadium seating is NOT conducive to gettin' on bad. Atall. Did that stop us from acting the fool every time one of our jams was played? NO. But it was a pain to be sandwiched in so close to my neighbor. Every time I wanted to dip & go down I had to watch that my purse didn't hit the lady next to me in her head.
Speaking of the lady next to me, why were the folks in my section so stush? I mean, Shabba is up there singing every one of his jams and these people are just sitting there, bobbing their heads. Sttteeuuuppps! Brought my whole vibe down. I was really hopping for a repeat of  the Carnival Mania crowd from the night before. Maybe we were just too high up for that. Or sitting in an off section as other sections of the arena were on their feet, hands in the air, thoroughly enjoying themselves. Eh, we managed to have fun regardless.
The opening act, Mr. Easy, didn't care one bit who wasn't in the groove. He hit the stage and immediately had the crowd on their feet. He had an amazing voice and was full of energy. Truth be told, I had no clue who Mr. Easy was. But once he started to sing I was like "Oh yeah!" Typical case of knowing the song but not the artist behind it. Turns out he's the voice on chunes such as Fly Away, Dynamite, Strangest Thing and the classic She Drives Me Crazy
The energy picked up even more once I-Octane hit the stage. That man was back and forth on the stage putting his all into his performance. The arena wasn't filled to capacity but he sang as if it was a crowd of 20k. You couldn't help but to get into it. Especially when he performed his hit We Love Di Vibes. Made me tired just watching him. LOL.
We settled into a grove with Damien and Stephen Marley. I was really looking forward to seeing them perform again as they had ripped it Friday night at the Hot 97 show. The minute the brother with the Rastafari flag came out and the back-up singers started crooning, I was in heaven. But with, what seemed to me, an unually long set for a multi-artist line up (almost a full hour) I was all Marley'd out. Much as I love  Jr. Gong and his brother, I thought it was a bit much. It started to feel like a Marley concert and that's not what I came for. There was a sweet moment during their set though when Irie Jam CEO Bob Clarke proposed to his girlfriend Syn Dawkins during Damien's performance of Affairs of the Heart. Nice way to end their portion of the show.
The vibe was quite mellow after the Marley's set. But veteran reggae singer Lady Saw came pon stage and tun it all de way up. I'm not a huge Lady Saw fan. I've always found her chunes to be a lil too slack for my tastes. Don't get me wrong, I'm far from a prude. But over the years Lady Saw would take it to levels that I just couldn't get down with. Nonetheless, she's a great performer and as this was billed to be her last public performance as a secular dancehall artist, it was a historic moment.
If you didn't know, Lady Saw has been going through some thangs in her personal life over the past few years and it seems to have moved her to seriously contemplate her relationship with God. According to Irie Jam, it took lengthy talks to get Saw to agree to this performance but she came out and really did it up. From bringing out Beenie Man to perform a bit of their classic chune Healing to pulling a couple from the crowd up on stage to skin out to Heels On she gave it her all. And the end of her set she even performed a piece of the gospel chune she is currently working on (you can hear a bit of it in her Boomshots TV interview).
The show ended with performances from two classic reggae artists. Shabba Ranks and the fireman himself, Capleton. Shabba came out on the stage and turned the place up and out! I forgot how many chune this man have. Among them Wicked Inna Bed, Dem Bow, Needle Eye Pum Pum, and my favorite X-Rated. (note to self: how can I think Lady Saw is too slack but be fine with Shabba's chunes? Hmmm, something to explore in another post I believe. Stay tuned) The hits kept coming and I stayed standing in my seat, hand inna de air as memories of the good times that Shabba music was soundtrack to washed over me.
Then out came Capleton.  This man's energy knows NO limits. I can't believe he chat with so much fire throughout the entire set. Though he was really running tru de chune dem (felt almost like a mixtape) I loved to hear bits of Slew Dem, Everybody Needs Somebody and Hunt You. Shabba joined him onstage and the two of dem brought the place to their feet. Capleton kicked a crazy freestyle at the end that seemed to devolve into an angry rant about the evils of Babylon, but de people dem love it. And once again it seems the Barclays doesn't have patience with performers on island time.They actually cut the lights on! I was just watiting for the mic to go next. But the set ended with host Dahveed Levy (Rockin' you! Rockin' you!) thanking the performers and audience as folks start to make their way out.
I'm sure I would have enjoyed myself more if I had floor seats or if there were large screens showing closeups of the performances. But I'm glad I went and had a great time. All in all it was a great show.
Did any of you guys go to the show? Who were your favorite performers? Which parts of the show weren't quite up to par? Wasn't the proposal during Jr. Gong's set sweet? Who do you want to see perform at next year's Jamboree? Tell me nuh?!