Thursday 9/24/15
Day 3 of the festival was to be a full one. First thing in the morning were the Caribbean Film Mart pitches. 15 filmmakers from across the Caribbean were invited to take part in the first annual Caribbean Film Mart, a festival long event which connected the filmmakers with projects in pre-production or development with industry professionals. At the pitch event eight of the filmmakers were invited to pitch their project to the panel. The homie Chantel and I had every intention of attending. Really we did. I wanted to support these talented individuals and also absorb some of the knowledge and goodness as I have me own film aspirations on the to do list (details to be shared at a later date). But after our late night at the Bazodee after party our bodies insisted that we catch a few more zzz's instead
Later that day I met up with Trini natural hair & beauty blogger Nelly B. Turned out it was also T&T restaurant week, so we had lunch at Trader Jack's Island Grill at the Movietowne complex in Port of Spain. I attempted to film our conversation for your viewing pleasure but of course technology was not my friend this afternoon. But I did manage to snag a few pics of the fab Ms. B.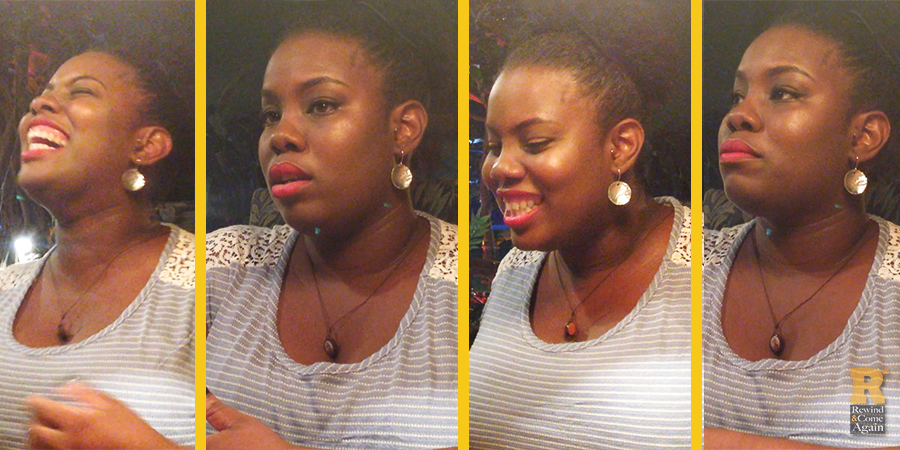 Nelly's vlog and blog are an excellent resources for natural hair, plus sized fashion and makeup/beauty tips. She is also a member of the natural hair collective 6 Degrees of Napp. This group of dynamic Trini women educate and encourage other Caribbean women to embrace their natural hair. This was our first time meeting outside of our Caribbean blogger Facebook group but we instantly connected. She's smart, warm and funny! I was particularly drawn to her religious life. By day Ms. B works in communications/social media for the Catholic archdioceses of POS. I don't know too many Catholics and had assume all practicing Catholics were stush, uptight, flavorless beings. The way Nelly comfortably and unapologetically lived her faith while still being a fun and fun-loving woman intrigued me. We will definitely be linking up on my next visit. I see good times and plenty shenanigans in our future.
Next on my to do list was drinks with Ms. Rochelle Amour. I became familiar with Rochelle, a Trini based writer and gerontologist, through Twitter. When I realized I would have some free time in my schedule I reached out so we could link.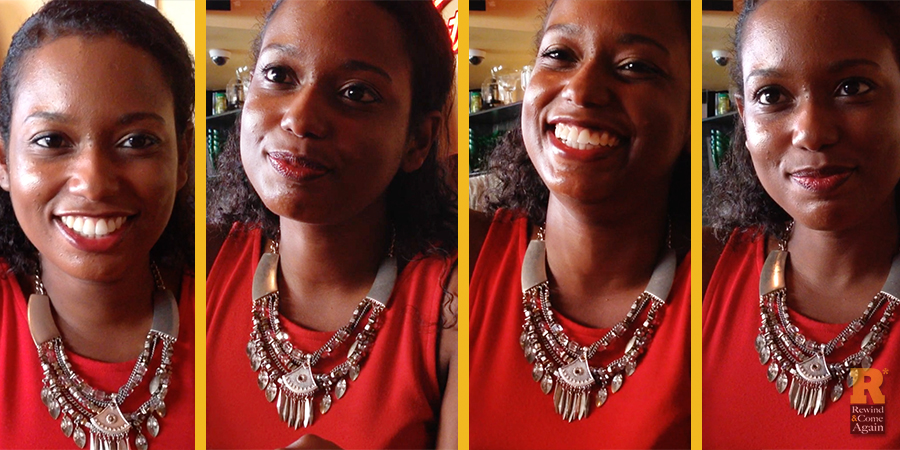 Time didn't allow us to chat long but I thoroughly enjoyed learning about Rochelle's love of writing. She covers topics of interest to the millenial crowd. Her articles on Medium,  Elite Daily and Brazen Life are interesting, informative and well written. But it is her love and concern for Trinidad's senior population that really piqued my interest. It's not often you find a 20-something with a genuine interest in the health and lives of senior citizens. With a Masters in Gerontology and a soft spot in her heart for the aged, Rochelle balances her writing with her work trying to better the lives of the elderly in Trinidad. She's an amazing woman and I look forward to getting to know her better.
Later that evening my partner in lime, Chantal and I headed over to the Caribbean Film Mart & Database launch event. It was held at Anya Ayoung Chee's (best known State side as winner of  v 9 of Project Runway) beautiful event / co-working space Home. I loved the crowd. International, creative and beautiful people. From film industry professionals to newbies just tipping their toes into the filmmakers pool and all those in between.
Shortly after the official address to the crowd and a bit of mingling, we headed back to Movietowne with Sean Hodgkinson, the founder of Quirky Films and director of the award winning feature film Trafficked, and actress Ayanna Cezanne, one of the stars of the A Story About Wendy film series, to catch the short  The Resort . It was a great story that explored the lives of men and women in the tourism industry in Tobago.
Afterward we headed De Nu Pub for a New Fire concert. Being that we were in Trinidad, I expected a night of soca music. How wrong I was. I had no clue that T&T had a vibrant rock music scene going on. The performances by jointpop and 5 Miles to Midnight were amazing! The talent on this island is massive.
And what better way to end the night then hanging on the street corner with a group of the most interesting, talented people I've ever met, being instructed on how to order and eat my first doubles. If you ain't know, I'm a pretty picky eater. I've never been a fan of channa, so of course I assumed doubles weren't for me. I was prepared to smile politely and say 'mmmm, it alright'. I was shocked when it actually tasted good. And that I wanted another one. Marking off another addition to my Approved Foods & Beverages list.
What a day.
Click here to go back to our Day 2 recap.
Click here to catch our recap of Day 4.
*photos & video courtesy of AlysiaSimone & Trinidad & Tobago Film Festival